A year of confinement and teleworking has brought to light the technical shortcomings of the German government. Watching all 16 states share their coronavirus data by fax until the advent of Surveillance Outbreak Response Management and Analysis System (SORMAS) software is perhaps the most obvious example, but by no means the only one.
The president of the German Federation of Civil Servants (DBB), Ulrich Silberbach, lamented at a recent event that the country remains a 'sleeping beauty' when it comes to digitization, with government reports' pointing the finger at the same problem and again. "
"We would have liked to land on the moon in the digital age, but we're still stuck in the basement. This is important to me because our colleagues currently have the impression that they are presented as the culprits in public discourse. "Silberbach said." And, of course, we vehemently reject that. The problem does not lie with our colleagues, but rather it is because we have cut the public sector to the bone for years. "
New tracking software has cut some of the paperwork involved in tracking COVID cases, but most staff are still on duty
While coronavirus restrictions required employers to allow working from home, the public sector found itself lacking in this regard. Earlier this year, the city-state of Berlin could only allow around 12% of its employees to remotely VPN access to its systems at any given time.
Germany lags behind in the EU's DESI index
The EU's annual Digital Economy and Society Index (DESI) regularly recalls Germany's shortcomings.
Overall, the richest and largest country in the bloc consistently offers only average performance. But in the "digital public services" segment in particular, Germany was languishing in 21st place out of 28 countries (the post-Brexit UK is still counted for now) in the 2020 index, just ahead of the Republic. Czech, Bulgaria, Hungary, Croatia, Slovakia. , Greece and Romania. This is not the kind of company that Germany is used to keeping in the European rankings.
Michael Pfefferle works at Bitkom, a digital association in Germany representing 2,700 companies. He specializes in bringing local and municipal governments online.
"The peculiarity of the coronavirus pandemic is that it has brought to light all of these issues which have been well known to everyone in politics and public service for over 10 years," Pfefferle told DW. "This was the turning point in Germany: we know the problem, but nothing is happening."
What the pandemic has also shown, according to Pfefferle, is that rapid progress is possible when the will and the need are there. The Berlin government, like so many large employers, rushed to buy laptops and set up VPN tunnels for their staff in 2021.
"Not a problem we couldn't solve"
Pfefferle described Germany's progress in digitization as "well below its own potential". Bitkom recently interviewed mayors and city leaders in Germany, receiving 640 responses. The top three complaints, he said, were almost universal: a lack of funding, a lack of expertise and specialized personnel, and a lack of direction and standards from the federal government.
"It's not like it's a problem we can't solve. We don't lack the right technology in Germany, it exists," he said. "Only 5% of mayors reported that suitable digital products were not available."
Large cities benefit from the recruitment deficit
Technology may not be lacking, but know-how often is. Silberbach of the civil servants' union said that of the 330,000 currently vacant positions in the German civil service, 46,000 of the vacant positions are reserved for IT experts.
According to Silberbach, the recruitment problems are twofold: It can be difficult to offer competitive salaries to often younger specialists in an often rigid pay structure, but perhaps more importantly, the German public sector is struggling to provide them with the kind of IT infrastructure and capabilities that would appeal to them. In one of the fastest growing industries of all, working with outdated equipment and capabilities doesn't look good on an IT professional's resume.
The problem is even more pronounced in smaller municipalities with smaller budgets and perhaps as few as 30 or 40 employees. Pfefferle from Bitkom said that big cities like Cologne, Munich or Hamburg are able to invest resources in "smart city" digitization projects, to hire and attract the specialist staff they need.
"But Germany has only 81 big cities with more than 100,000 inhabitants. And the big problem which is currently developing in Germany is that the small towns really do not have the chance to acquire this know-how," he said. said Pfefferle. They lack both the money to pay them and the technical infrastructure to attract them.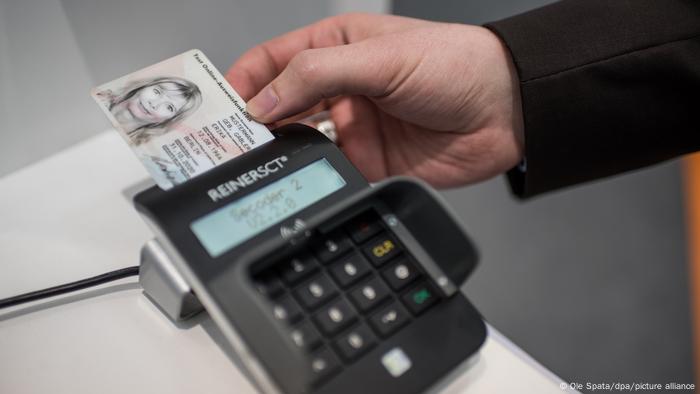 Germany has had digital ID cards for a decade, but hardly anyone uses them
"Online Access Law" against a paper-based company
Even before the pandemic, the grand coalition government had implemented a new plan designed to drag the public sector into the 21st century a few decades behind schedule.
The so-called online access law aims to digitize more than 500 public services by 2022. Pfefferle said he was not very optimistic that the government will meet the target it s 'is fixed. With only a few months left, he describes the project as "still too much in the planning and design phase."
However, he also admitted that some of the issues run deeper than the government itself. For one of the most modern and wealthy economies in Europe, Germany is still kind of a fossil when it comes to letting go of its old ways.
Even the pandemic hasn't done much, for example, to kill the cash culture that still permeates German retail. The most recent figures from 2017 showed that 77% of all point-of-sale transactions in Germany were cash payments. It is not a figurehead in the EU, but it contrasts sharply with neighboring Netherlands, one of the best in the DESI annual index. There, only 34% of point-of-sale transactions used physical currency.
And a similar problem pervades the public sector. Many forms and applications still require a written signature, and digital ID cards introduced in theory over a decade ago are hardly ever used, meaning the last step in the most computerized program is usually printing. a copy of the form, to be signed. , and take it to local authorities. (Alternatively, if you have some rather old-fashioned tech hardware at home, you may be able to scan the signed hard copy into your computer and email it as a PDF instead.) It was the same story for applications for financial aid largely online. government during the pandemic.
"This love of paper and signatures is still very much rooted in German administrations," said Pfefferle. "Cooperation between health authorities in particular but also more generally between states and the federal government has proven to be too complex. These complex structures and this cling to paper have proven to be problematic in this pandemic.
While you're here: Every Tuesday, DW's editors summarize what's going on in German politics and society, with the aim of understanding this year's elections and beyond. You can sign up for the weekly Berlin Briefing email newsletter here, to stay abreast of developments as Germany enters the post-Merkel era.